The Society owns a wide range of musical instruments, from acoustic guitars to xylophones! (see table below)
Instruments are available for hire to adults and young people on a school term basis at very reasonable rates, in a mix of student sizes.
Please ring 6258 0200 for an appointment (10am – 4pm Tuesdays – Thursdays)
Instruments may be kept for students to practice during the school holidays, but most instruments need to be returned by the advertised date in December each year for servicing. The instruments are then hired to students attending Summer Music School. Instruments may be rehired after Summer Music School on the first day of the school Term 1.
To hire an instrument from the Young Music Society you must be a financial member. The annual membership for the YMS is $30 for a calendar year. It's simple, just join when you collect your instrument.
To hire an instrument it is a requirement that the security of a credit card number and permission for term rates to be automatically charged to that credit card on the commencement dates of each term unless the instrument is returned in good condition before that date. Payments will be charged in advance each term. A once-off non-refundable service fee of $50 will also be charged at that time for each instrument.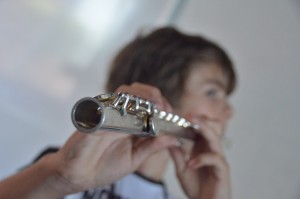 | | | |
| --- | --- | --- |
| Instrument | Fee Per Term | |
| Woodwinds | |   |
| Flute | $60 | |
| Curved Head Joint (for Flute) | $15 | minimum 2 term hire |
| Piccolo | $45 | **Special Rate!** |
| Oboe | $90 | |
| Tiger Oboe (for K-6) | $30 | **Special Rate!** |
| Clarinet | $60 | |
| Bass Clarinet | $90 | |
| Bassoon | $90 | |
| Saxophone- Alto | $90 | |
| Saxophone- Soprano | $90 | |
| Saxophone- Tenor | $90 | |
| Recorders (Sop, Alto, Tenor, Bass) | $15 | (minimum 2 term hire) |
| Bowed String | |   |
| Violin | $45 | |
| Viola | $45 | |
| Cello | $75 | |
| Double Bass | $90 | |
| Plucked String/Electronic | | |
| Dulcimer | $30 | |
| Electric Guitar & Electric Bass | $30 | |
| Guitar Amp & Bass Amp | $15 | |
| Mandolin | $30 | |
| Guitar Acoustic | $30 | |
| Digital Piano (weighted keys) | $75 | |
| Keyboard (limited octaves) | $15 |  (minimum 2 term hire) |
| Brass | |   |
| Trumpet | $60 | |
| Cornet | $60 | |
| French Horn | $75 | |
| Tenor Horn | $60 | |
| Euphonium | $60 | |
| Trombone | $60 | |
| Tuba | $90 | |
| Percussion and Other | |   |
| Drum kit | $70 | |
| Xylophone (3½ Oct) | $90 | |
| Didgeridoo | $15 | |
| Bagpipe Chanter | $15 | |
Instrument Hire – Conditions of Hire 2017
Instrument Hire is only available to current financial members of the Young Music Society Inc.. Membership for 2017 is $30 and is reneweable on 1 January each year. All instruments remain the property of the Young Music Society Inc..
Instrument Hire is contracted by advertised ACT school terms and will be automatically renewed term by term in advance of each term, until the end of the school year.
Term Hire Periods for 2018    (if you hiring across the school terms you do not need to notify the YMS or return the instrument, if you have not returned the instrument by the designated date your credit card will simply be debited at the start of the new term. All instruments must be returned by December 14 with exception of approved hires only** )
Term 1   February 5 – April 27
Term 2   April 30 – July 20
Term 3   July 23 – October 12
Term 4   October 15 – December 14
Term 5 (Summer Holiday Hire on approval from YMS only**)  December 17 – January 26, 2019
The instrument may be hired or returned at any time during the term or year. If a hire takes place after week 6 of a term then 75% of the full hire fee and bond will be charged to your credit card.  Please phone 6258 0200  or email YMS to make an appointment to hire or return an instrument.  Summer Holiday Hire is only available if the instrument is not required at Summer Music School and this will be advised by YMS staff.  All instruments must be returned for stocktake by December 14.
Upon collection, each instrument hire requires payment of a non-refundable service fee of $50 (per instrument), an annual YMS membership fee and consent for YMS to debit a credit card account at the start of each term unless the instrument is returned by the advertised date (above) with the exception Term 4 (see point 2).
At the time the instrument is hired, a visual inspection will take place by YMS staff and the condition of the instrument noted on file (a photograph may be kept). When the instrument is returned it will again be checked by YMS staff for any superficial damage and the general condition documented. In cases of concern the instrument will be checked by an instrument technician who will report any damage that is not initially visually noticeable, or is more than the usual wear-and-tear aging of the instrument. The specialist written report will then be passed to the YMS Office and then on to the hirer for reimbursement up to the value of $500 which may be automatically deducted from the credit card provided. If an instrument is deemed irreparable you will be notified and the full cost of a replacement instrument will be charged to your credit card. Should the hirer refuse to meet such costs, the YMS will take appropriate legal action to recover such costs and any legal and other costs incurred.
Care and return of the hired instrument is the responsibility of the person who will be using it (see above) and the instrument must not be passed on to or used by any other person. The hired instrument must be returned personally by an adult in the same family who hired the instrument.
Repairs required during the Hire period must only be carried out by a repairer approved by the YMS, in accordance with Point 4. Do not undertake any repairs before speaking to YMS Staff, with the exception of replacing broken strings and reeds.
Instruments must be stored in a cool, dry climate, and should not be left in heat for excessive amounts of time (e.g. in a car). Stickers or labels must not be attached to any instrument, except for teaching purposes in which case they must be completely removed before returning them (including any residue). The cost of removing stickers from instruments will be passed on to the Hirer as per point 4, at $20/instrument.
Violin, Cello, Viola and Double Bass Hirers
Hire of bowed string instruments comes with a bow.  If the bow is not returned in the original condition $75 will be charged to your credit card to replace it.  To keep your bow in good condition, make sure it is always loosened at the nut when not playing the instrument.  Broken strings for bowed instruments must be replaced with Pirastro Piranito strings at the hirer's cost.  You can contact the YMS for a list of suppliers.
Guitar Hirers
Broken strings for guitars must be replaced by D'Addario strings at the hirer's cost. You can contact the YMS for a list of suppliers.
Brass Hirers
Brass instruments must be bathed before return.  Instructions for bathing can be provided on request.  If an instrument or case is returned in a dirty condition your credit card will be charged $40 for cleaning costs.
The YMS Instrument Hire Library has been designed around beginner and student activity. If a hirer or a teacher is not happy with the quality of the whole or part of the instrument, one replacement may occur if a replacement instrument is available. After that time the member will be advised to purchase their own instrument that will satisfy their expectations. Monies paid will not be refunded.