Concert Band 9:00 – 12:00, Saturdays during school term time
Merici College, Braddon. Term I commences February 10, 2018

The Concert Band is a non-auditioned band for musicians aged 9-18 years. Concert Band includes brass, wind and percussion instruments. As a guideline, musicians should have been learning their instruments for around a year before joining Concert Band. Particularly keen students and those picking up a second instrument may be ready earlier. Concert Band repertoire ranges from AMEB grade 1-4 level. There is no requirement for students to be actually undertaking AMEB grades in order to join Concert Band.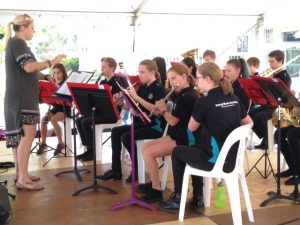 Concert Band is a supportive environment for young musicians to learn or further ensemble skills and etiquette, building the musical skills of the students. The band performs regularly throughout the year, including at the National Eisteddfod and Floriade. Music is chosen from a wide range of styles and genres, including classical, jazz, contemporary pop and movie greats. Repertoire has included Rockin'Robin, Panis Angelicus, Jazz Cat, Westport Overture and Gershwin Classics.
Concert band rehearses 9:00am–Noon on Saturdays during school terms at Merici College, 10 Wise St, Braddon. Parents are not required to stay for the rehearsal, but are very welcome. A 20 minute morning tea break is scheduled from 10.15 to 10.35 am. Morning Tea is provided by parents on a roster basis.
Conductor Beth Way, is an experienced and dynamic musician and music teacher. Musicians are welcome to come along and try out Concert Band for a couple of weeks to see if they enjoy the experience. These first two sessions are free. Musicians need to bring along their instrument, music stand, water bottle and a pencil to each session.  Instrument Hire can be arranged if necessary.
Register or simply turn up.
For more information, Contact Us Here.